It turns out that when you start a new job, you don't have as much time for reading. This is something I knew, but after having been out of work for 6 months, my level of reading went down. My reading goals are built around what I read, rather than how much, but it's an activity I really enjoy, so I'm working out the best way to fit it into my new routine. So, it was a quiet month, but I read some things I really loved. Let's get to it!
Book of the Month
The Constant Rabbit by Jasper Fforde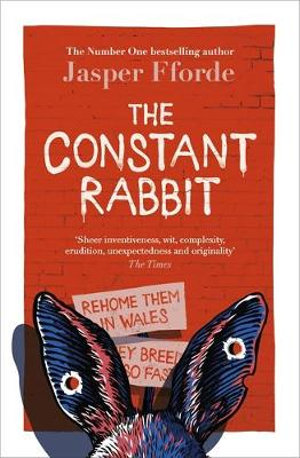 I love Jasper Fforde, and I'm definitely one of the people who wants a Shades of Grey sequel more than anything else. However I'll read anything he puts out, because his writing is unlike anything else I've ever read. When I said that the bureaucracy in The House on the Cerulean Sea was like Jasper Fforde, it was the highest compliment. The best genre fiction holds a mirror to society, and The Constant Rabbit is Fforde's response to growing conservatism and anti-immigration policies in the UK, through a mysterious event that anthropomorphised several rabbits, some foxes and a handful of other creatures. The book opens with the Buchblitz, which is the absurd endpoint of closing down public libraries – they're now only open six minutes a fortnight. The ruling party in Britain is the UK Anti-Rabbit Party and the Prime Minister is Nigel Smethwick. It's not subtle, but it's also not trying to be. Peter (again, some clever naming) is content in his job in the department that monitors rabbits until Constance, a rabbit he went on a couple of dates with at uni, comes back into his life. Her family lives next door, and Peter and his daughter become increasingly involved with them and the Rabbit Underground. It's an excellent, funny and empathetic read and I definitely cried at the end, which is the first time that a Jasper Fforde book has evoked that kind of response.
New books
Spoiler Alert by Olivia Dade
Get yourself a romance novel that is sexy, fat positive and understands fandom. This was another library book, but I can see myself buying it in the near future as well. Imagine, if you will, that one of the lead actors in a hugely popular fantasy show writes fanfiction set in the universe as a secret, and he has a best friend/crush who has no idea who he is. Then they go out on a date through unexpected social media circumstances and he quickly realises who she is, but can't tell her his secret. They hit it off (not without complications), and the whole thing culminates in a fan convention. There's a sequel coming out this year about his friend who is another cast member on the show (and begins writing his own fanfiction), and I'm so excited.
The Proposal by Jasmine Guillory
I read The Wedding Date a few months ago, and I was excited to read the blurb for The Proposal, because I would be so embarrassed by a public proposal. I was embarrassed when my friends sang happy birthday to me in a restaurant last weekend! So yes, give me the story about Nikole, the woman who has been seeing someone very casually for a few months and is shocked to be proposed to in the middle of a baseball game. Enter Carlos, who helps her escape the cameras. My favourite moment is when Nikole gets to meet Drew and Alexa from the first book, and Nikole and Alexa have to go off and talk about how Drew and Carlos didn't let either of them know the other was black. I love this series and how social issues are part of the story because they're part of the characters.
The Inheritance Games by Jennifer Lyn Barnes
This is another book that was recommended by my bookish friends and it's great. I love a whodunnit. Avery Grambs wakes up one day to find out that she's been included in the will of an eccentric billionaire. When she goes to the will reading, she learns that he's left his entire fortune to her, but she has to move into his house, with the rest of his surviving family, and he's left clues to help them solve why he left the fortune to her. This book is my catnip – a friend recommended it to me when I mentioned I was watching Knives Out, because she knew I also liked the Truly Devious series. There's one thing that those properties set in giant mansions have in common: there aren't enough trick rooms or puzzles, and The Inheritance Games has trick rooms and puzzles galore! I'm very excited for the second book coming out later this year.
Rereads
Shadow and Bone by Leigh Bardugo
This was the March/April book for my online book club, and it was great to reread after finishing Rule of Wolves. I even saw some similarities between Alina and Zoya that I hadn't previously, which will be the subject of a future post. I also really loved the first season of the show for reasons that I won't get into here. Watch this space though!
Intentions
This is going to be shorter than usual because I read so little this month
At least one Australian book each month, preferably from an underrepresented community – N/A. I now need to read two books by Australian authors one month later this year.
Translations – N/A
Non-fiction – N/A
Read more books on the TBR shelf – N/A
Seek out more variety in writing type, try to read more poetry, beginning with novels in verse – N/A
#OwnVoices – Just The Proposal this month.
April intention: read at least two books on the TBR shelf. Didn't happen, but I've already forgiven myself.
May intention: none really, just make time to read and focus on the intentions that are already there